5 Makeup Tactics Every Girl Must Know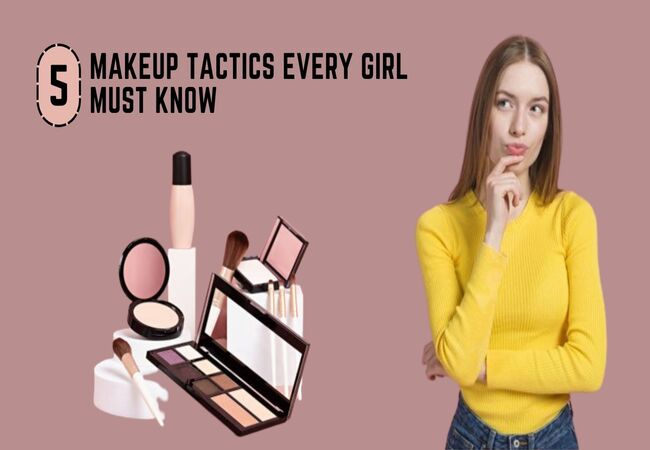 Getting the right makeup should be simple and time-saving. In this blog, you will get key tactics to have good beauty makeup, and you will feel happy to see your face look in front of the mirror. These tips will help you get highly professional makeup without going to a beauty parlor, whether you are a beginner or a professional.
5 Makeup Tactics Every Girl Must Know
1: Use Spoon For Mascara Application
All the girls experience pain while doing makeup with mascaras on their eyelids. Thanks to this trick that makes this process easier than you think. What you have to do is that you get a spoon that can help apply mascara on your eyelids. Just place the spoon's end under your eyelashes prior to applying mascara on them. After this, any residue will end up on the back side of the spoon, and your face will not be affected at all.  To get a complete guide on how to apply eye makeup step by step, read Eye Makeup Looks for Beginners – Tips and Tutorial.
2: Avoid Putting Concealer on Eye-lids
As a base, you typically use concealer or foundation products on your eyelids. It is not perfect for you; avoid it. On the other hand, using concealers under the eyes is the ideal option to cover dark spots and circles. If you apply this product to your eyelids, you can damage your eye makeup.
3: Using Tape For Cat Eye Appearance
If you want to get a cat eye outlook, then it can be complex with eyeliner. It can be tricky for you to match each side of your eyes with the same shape and style. For perfect felines, flicking using tape or a spoon can be a good idea. For this purpose, create a straight line for the eye's outer corner with the spoon's edge. After this, trace around the curved edge from the flick's end down to your eyelashes and fill the wing well.
4: Shaping The Eyebrows
Shaping the eyebrows is not a tricky task if you follow these steps:
Start brushing your brows with a tool – spoolie to sit the hairs appropriately.
After this, use a smooth eyebrow pencil to shape your brows' outside with the thin side of the tip.
With the pencil's flatter angle, fill the brows with hair-like strokes.
Blend highlighter below the brow bones for a perfect lift.
5: Make Your Lipstick Last Longer
Lipstick is one of the main beauty products for makeup that changes your face appearance and makes you look beautiful. Choosing the right lipstick and using them appropriately is tricky for beginner girls. The lipstick comes in different categories in the market. Some of them last longer, and some are not.
Though here is a trick to make your lipstick products last longer: swipe your lips and place tissue paper over your lips, and use some translucent powder. This way, you can make your lipstick color long-lasting. It is suggested that you always try to choose a lipstick brand that is famous in the market and reliable for consumers. The makeup and skin care products come in different types of packaging boxes.
In addition, the packaging of lipstick products can help you in this regard, and you also can find the best cosmetics, serum, and lipstick brands in the retail marketplace. Custom printed lipstick boxes with essential details about the product use guidelines, cautions, and professional packaging design represents a trustworthy beauty brand. This factor can help you buy the right lipstick product and have good makeup.