A List of Customer Trusted Masala Brands in Gujarat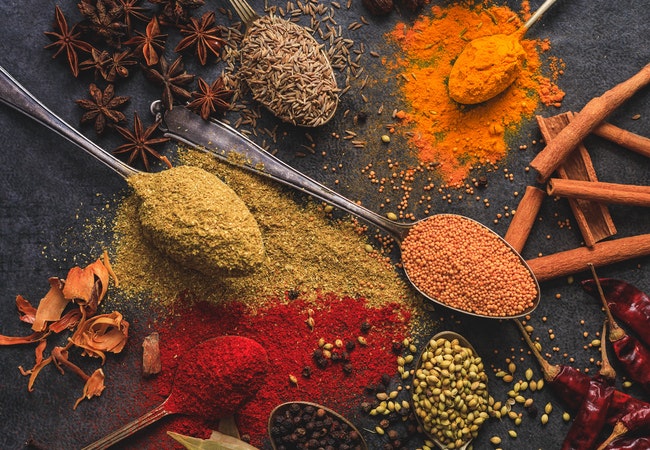 Masala or spices are the most important ingredients for a healthy life. There are different kinds of masala or herbs like ginger, turmeric, red chilli, black `chilli, cumin, cloves etc used in the kitchen for delightful taste. And, few of them make the immune system stronger and people use that in their diet plan. Gujarat is the leading state in masala production and it produces garlic, chillies, cumin, coriander, fenugreek turmeric, ginger and fennel. So, in this article, I am going to share information about masala brands in Gujarat that are used and trusted by millions of people and available in the market at affordable prices.
10 Popular Masala Brands in Gujarat
1: Vasant Masala – Best Spice Brand In Gujarat
Vasant Masala ISO 2200 205 and FSSAI certified masala brands in Gujarat available on Flipkart and Amazon and was founded in 1970. And, it has been awarded by Amazon in 2019 for outstanding performance and top 10,000 selling partner club. Also, their spices are exported to overseas countries USA and UK.
Address: 429, Patel Avenue, Sarkhej – Gandhinagar Highway, near Gurudwara, Thaltej, Ahmedabad, Gujarat 380054
Timing: Monday to Sunday 10:00 Am to 7:00 Pm
Phone: 0268 501 4041
Website: https://www.vasantmasala.com/storelocator
2: Hathi Masala | Gandhi Spices
Hathi Masala or Gandhi spices is one of leading spice processors with 4 offices across India. They have 60 years of experience in the food processing industry.. With an in-house ultra modern laboratory, fully automated plant and high quality grade manufacturing facility and a skillful team it is delivering tremendous services. Hathi masala brands in Gujarat is certified by ISO 2200 205, FSSAI, US FDA, Spices board of India.
Address – Parapipaliya Survey No. 60, Near Saurashtra cricket stadium, Rajkot-Jamnagar Highway, Rajkot.
Customer Care: +91 9428211521 | info@gandhispices.com
Sales and Export: +91 9099970217 | overseas@gandhispices.com
Website: https://www.hathimasala.com/
3: Ramdev Food
Ramdev foods pvt ltd was founded by Hasmukhbhai Patel and they are a leading spices manufacturer in Gujarat(Masala Brands in Gujarat), processor and exporter in Gujarat, India. Ramdev foods has also been recognised by Govt of National award in 2010 for Ready to eat & instant mix foods, MSME award from Gujarat Govt and prestigious award for quality & environment protection measures.
Address: Spice World, Sarkhej-Bavla Rd, Highway, Changodar, Gujarat 382213
Timing: 9:00 Am to 6:00 Pm
Phone: 02717 710 200
Website: https://www.ramdev.co.in/
Inquiry: ramdev@ramdev.co.in
4: Boss Masala
Boss masala is a Rajkot based company, has been serving their customers since 2011 and they provide premium and natural quality masala powders. Also, they export masala products across the overseas countries as per customer needs. By giving best quality and satisfied results, this is the popular masala brands in Gujarat trusted and rated by thousands of customers.
Address: Amrutvilla Apartment, Sukh Sagar Society, Street Number 6, Rajkot, Gujarat 360003
Timing: Monday to Sunday 10:00 Am to 12:00 Am
Phone: +91 8980707991
Website: https://www.bossmasala.com/
Inquiry: order@bossmasala.com
5: Shree Laxmi Masala Works
Shree Laxmi Masala Works and company situated in a small city of Gujarat, Anand. From a small masala shop in 1962, Laxmi Masala brands in Gujarat is one of the most popular spices brands in Gujarat. They provide a wide range of quality masala to their customers at competitive prices.
Address: Laxmi masala Near gunj bajar, opp. fire brigade, Anand, Gujarat 388001
Timing: Monday to Saturday 9:00 Am to 8:00 Pm
Phone: 099746 01762
Website: https://shreelaxmimasala.com/
Inquiry: contact@shreelaxmimasala.com
6: Kumar Spices Pvt Ltd
Kumar masala was founded in 1980, and it is the leading spices manufacturer and wholesaler from Motera, Ahmedabad in India. They have the capacity to produce blended and powder spices 10 ton/day. All the spices products of Kumar Masala Brands in Gujarat tested by the Spices Board of India on parameters like nutrition, texture and aroma. You can also shop for Kumar masala on Amazon, Flipkart, Paytm and Meesho.
Address: Kumar House Opp. Dev Manglay Society, Village, nr. Swaminarayan Temple, Motera, Ahmedabad, Gujarat 380005
Timing: Monday to Sunday 9:00 Am to 5:00 Pm
Phone: 075758 88847
Website: https://kumarmasala.com/
Inquiry: info@kumarmasala.com
7: Shankar Masala
Shankar Masala Brands in Vadodara, Gujarat, is the biggest spice manufacturing company. They offer 45 varieties of spices with and giving their services to customers with 50+ years of experience. Shankar masala is known to maintain a standard of purity, freshness and authenticity in every pack. Their highly professional team gives their dedicated time to satisfy each customer by selecting pure raw materials.
Address: Shop No. 2, Kanchanganga Complex, RC Dutt Rd, near Mirch Masala Restaurant, Paris Nagar, Diwalipura, Vadodara, Gujarat 390007
Timing: 9:30 Am to 8:30 Pm
Phone: 077779 54954
Website: https://shankarmasala.com/
Inquiry: info@shankarmasala.com
8: Badshah Masala
Badshah Masala Brands in Gujarat is a certified and top rated masala brand manufacturing unit located in Umbergaon, Gujarat. And, delivering finest quality and unforgettable taste since 1959, available on Amazon and Flipkart too. The company is constantly releasing PR and spreading their power brand information across India.
Address: A1/179, GIDC Umbergaon, Umargam, Gujarat 396165
Timing: Monday to Sunday 8:30 Am to 8:30 Pm
Phone: (022) 67774333
Inquiry: badshah@badshahmasala.com
Website: https://badshahmasala.com/
9: Bharat Masala
Bharat Masala was founded in 1996 by a freedom fighter who was a pioneer in the masala business and is the fastest growing and popular spices brand in Surat, Gujarat. Their highly skilled professionals and labor never compromise with the product quality and maintain the original taste and aroma of the Indian spices.
Address: 14-15, Chauta Bazar Rd, below Vada Chauta Road, Chauta Pul, Gopipura, Surat, Gujarat 395003
Timing: Monday to Sunday 9:00 Am to 8:00 Pm
Phone: +91-261-2591166
Inquiry: +91-261-2591166
Website: https://bharatmasala.net/
10: VIP Masala
VIP Masala is an ISO 22000, FSSAI certified masala brand in Gujarat. They offer high quality blended spices, curry powder, baking spices and other Indian spices at the market prices. They use cool grinding technology to keep the taste and savor for a longer time.
Address: Vip masala, GJ SH 41, shareware, Siddhpur, Gujarat 385210
Timing: Monday to Sunday 9:00 Am to 6:00 Pm | Wednesday – Closed
Phone: 099790 03969
Website: http://vipmasala.com/
Inquiry: wipmasala@yahoo.com