Aad: The Most Royal Neck Jewellery of Rajasthan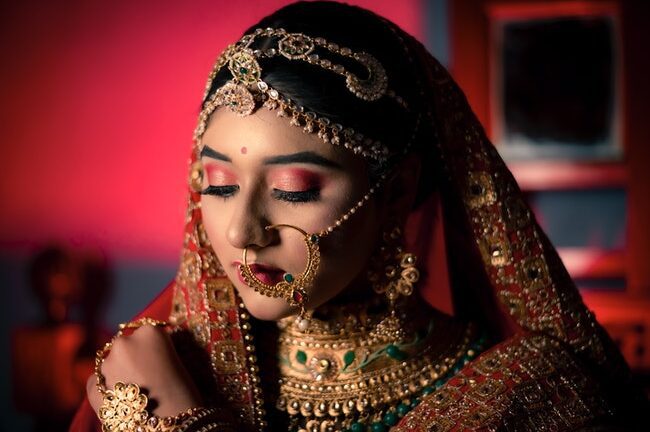 "Rajasthani Aad necklace has eye-catching designs to adorn true tradition and ethnicity."
Rajputi Aad is the most common wedding jewelry in India. It is traditional jewelry that Rajputi women prefer to wear having beautiful designs. Rajasthani neck jewelry is such an ornament decorated with pearls and precious stones. It is especially worn by Indian women to reflect royal attitudes. This Rajasthani necklace has unique designs and goes well with traditional Rajputi Poshak. This type of choker is a symbol of honor and pride for Rajasthani women.
Aad Necklace is Signature Jewelry of Rajasthan
If a bride wants to get a traditional look on her wedding occasion, this neck jewelry is the best choice. They hold a next level charm of Rajputi culture and make you feel Maharani. An elongated necklace with turquoise and enamel works to grab your attention. Aad is a special necklace that falls between the lower neck and bust line to give a princess look. A rectangular design necklace paired with danglers enhance the beauty of the neckline.
Rajasthani aad designs are the perfect way to get an elegant and exquisite look.
From red color to muted pastel one, the aad necklace is trending to hike up the beauty and ten best designs inspire you are :
From red color to muted pastel one, the aad necklace is trending to hike up the beauty and ten best designs inspire you are :
1. White and gold necklace
2. Minimalistic striking neck jewelry
3. Kundan encrusted necklace-  a traditional gold jewelry
4. A floral neck ornaments
5. A bold red neck jewelry
6. Aad having regal green and gold color
7. Polki diamonds prepared necklace
8. A classic red and gold neck ornament
9. A meenakari artwork aad necklace
10. Ruby studded neck jewelry
Aad necklace is also known as Kanthi in Rajasthani culture. This Rajasthani neck jewelry is gifted as a shower of blessings to a bride. This necklace has gold and Kundan work. This neck jewelry dynamizes the bride's look and gives a royal charm to visual appeal. It is easily adjustable with the lace ( bundle of threaded beads). In addition, a Rajasthani bride loves to have Rani Haar to enhance her dress up.
The highlight of this necklace is its large curved pendant. They get interlocked with different individual pieces or single ones with rubies. The size and shape vary according to the requirement. Beautiful neckpieces are carved by single artisans to ensure that the pattern is uniform. To add more uniqueness, the center of this ornament is crafted with flowers depicted in Kundan art. Various Basra pearls are string in each unit of the necklace to add fragile beauty.
Being heavy neck jewelry, it is protected firmly behind the neck with two thick woven strands of Resham on either side of the choker.
"Rajasthani Aad – Neck Jewelry is Like Every Bride's Dream Come True!"
This Rajasthani neck jewelry is gaining popularity in the market. It is trending to wear and admiration towards loved ones. The term "aad" means "jewel" in Hindi and is a unique neckpiece of Indian tradition. The best thing is that we can change theme and design as per choice easily to get creative jewelry. Aad pendants have more popular designs and different shapes are available as round, square, oval or rectangular with specific patterns. Women usually wear it during festivals or celebrations. They are made from gold and apart from the necklace, it has varieties in bracelets or rings. They are manufactured differently according to the region and consider traditional aspects of it.
This neck ornament expresses Indian tradition and culture. If someone is looking for traditional jewelry, opt for Rajasthani jewelry with its creative handcrafted and exclusive collection. Aad nathni jewelry set that an Indian bride wears on her D-day with a matching outfit. Earlier it was exported from Rajasthan and helped to increase the GDP of the nation. It is always in high demand due to its attractive look.  This neck jewelry shopping can be done either online or at jewelry shops.
They can customize according to unique designs, vibrant colors and different shapes. This jadau art of Rajasthan necklace is truly fascinating to attend wedding ceremonies or festive times. The mind-blowing work on neck jewelry has been in Rajasthan for ages. It has been a glory for women to have this beautiful neck pendant in the modern era. As per historic times, this neck jewelry plays a vital role in the lives of Rajasthani women.