How To Get Your Home Ready For Diwali Celebration 2020?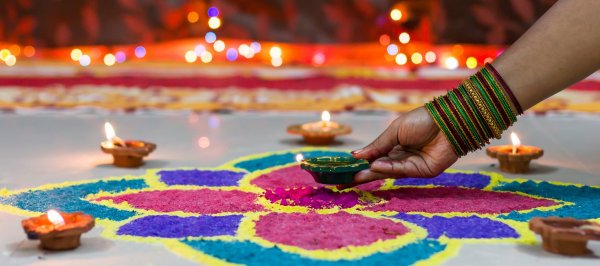 According to the Indian people, India is the birthplace of crores of deities, and that is why there is always the occasion of some auspicious festivals in India. One of them is a festival celebrated in every state of India, "Diwali." We celebrate this festival in the victory of truth over evil. On Diwali night, we see lights in every nook because we believe that on that day, the light has won over the darkness. On the most awaited festival, people worship at home with their families under one roof and celebrate joyous occasions.
The festival of lights is nearing fast and brings with it a whole spectrum of joy, prosperity, emotions, love, togetherness. A week-long celebration of diyas, sweets, fireworks, new clothes, Diwali gifts, and a lot of enjoyment, Diwali marks the victory of good over evil and light over darkness. It is a pious time to strengthen your relationships with your loved ones as well as to erase the bitterness from. On the Indian grand celebration, the offline and offline market is overloaded with various Diwali gifts, sweets, gift combos, dry-fruits packs, clothes, and many more. Such a beloved festival definitely calls for a lovely and special welcome into your home.
With two or three weeks to go before Diwali, it's time to beautify your home for celebrating Diwali, especially since you will have friends, relatives, and loved ones visiting to exchange Diwali gifts, sweets, or to play cards if you are organizing a party. If you haven't got down to decorating your home for the festival, So here we are sharing some decoration ideas to help you jazz your home space for Diwali.
Diwali Celebration Tips 2020
Brighten Up Your Wall – Walls are one of the main stars of your home which shoot to be classy and nice. Whatever you choose to add color to your walls to decorate the walls with paintings or photographs, they will help to add an attractive note to your interiors. If you are satisfied with your wall decoration or paint, then hang fairy lights to make walls shimmer.
Dress Your Door and Windows – People clean their homes and shops the two weeks before Diwali. While cleaning everywhere at home, don't forget to dress your doors and windows. It's the best time to change your curtains, sofa covers and put some beautiful flowers on the table. Choose some attractive and sheer curtains to give a grand look to your home space.
​Let The Entrance Glow With Lights – As Diwali is the festival of lights and happiness, you must decor your home especially entrance with lights to give a glow. The entrance set the mood of celebration, so that your relatives, friends or loved ones feel ready to celebrate as soon as they enter your home. The best way to add welcoming touch to your entrance is, place diyas, candles fairy lights. You can add fresh and beautiful flowers or rose petals. Moreover, you can opt the Diwali flower decoration ideas from various online websites.
Not To Forget Home Decor Items – Don't you feel that your home space needs some home decor items to enhance its beauty? Off Course it will! On the upcoming Diwali 2019, decor your home with some impressive and auspicious home decor items such as flowers, pouts, Ganesha statue, monk statue, LED cushions and many more. This will help you to get appraisal from your guest or loved ones when they visit your home. And if you're looking for Diwali gifts for friends, then home decor is one of the best ideas. So, on this Diwali, home decor items are a must!
Diwali is an auspicious occasion of the Indian calendar which sets the tone for bringing out a lot of positivity in the upcoming year and best hope for the future. These are some amazing ideas that you can try and share with your dear ones on forthcoming Diwali. Those who are away from their loved ones residing in Pune can send Diwali gifts in Pune with the help of online delivery services. It is a great time to celebrate with your precious ones, enjoying the lights, fireworks, eating delicious dishes and sweets without thinking of your diet. So, have a happy and safe Diwali and just feel the magic in the air.