A Complete Everest Base Camp Trek Guide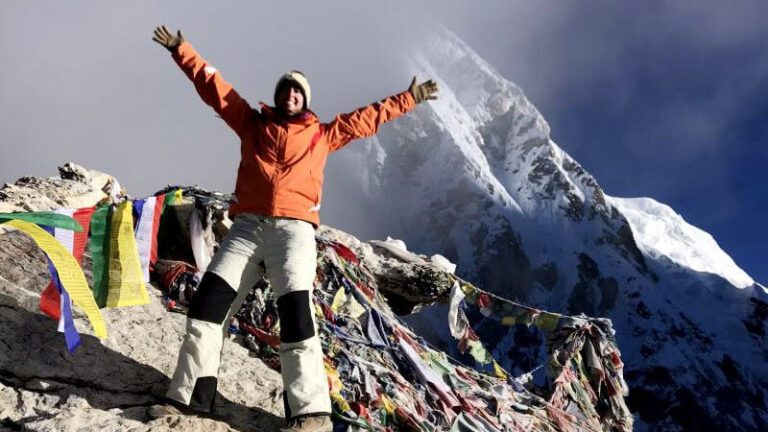 Are you ready to tackle the most spectacular hiking route in the entire world? Many a trekking itinerary has vied for this coveted distinction, but the Everest Base Camp Trek lays better claim to the title than most. From the lofty summit of the highest mountain on the planet to mysterious, forested valleys cut by tumbling, sparkling rivers, the Khumbu region of Nepal is a place of rare beauty—and high adventure. Alpine Ramble Treks has put together this Complete Guide to the Everest Base Camp Trek in order to help you understand what you can expect on this world-class hiking trail. From the instant you disembark from your plane at Lukla to the moment you find yourself standing at the foot of the mighty Mount Everest itself, we'll be your guide to the sights, sounds, and experiences of Nepal's finest trek.
Everest Base Camp Trek Guide
Difficulty
Do you have what it takes to reach Everest Base Camp on your own two feet? This trek involves hiking across steep and uneven terrain at high altitudes, reaching a maximum elevation of 5,545 meters. But make no mistake—the challenge is part of Everest's indefinable allure, drawing visitors from all walks of life to experience the rugged wilderness of the Khumbu for themselves. And while it's important to be in reasonable physical condition before attempting the Everest Base Camp Trek, you'll be pleased to learn that this is a non-technical hike that does not require any special mountaineering skills. Most trekkers prepare for their adventure with endurance-building exercises such as walking, running, and swimming. Your experienced guide from Alpine Ramble Treks will also keep a close eye on your progress, adjusting your pace and allowing for plenty of time to acclimatize in order to ensure a successful and satisfying hike.
Weather
The weather in Nepal is tied to the cyclical rhythms of the region's seasonal monsoon, which brings dramatic changes to the country's highest mountains. Summers are warm and wet, with verdant greenery blanketing the hillsides of the Khumbu. Winter brings colder conditions and fresh snowfall, draping the majesty of the Himalayas in their most resplendent finery. Spring is most famous for its stunning carpets of blooming wildflowers, and autumn is best known for what are arguably the clearest mountain views of the whole year. While the Everest Base Camp Trek can be enjoyed at any time of year, most trekkers prefer to trek in the spring, between February and March, or during the autumn, between September and November. Clear views, mild temperatures, and dry trails are the hallmarks of spring and autumn. But whenever you decide to visit, you'll quickly fall in love with the seasonal charms of Nepal's Everest Base Camp Trek.
Routes and Distance
The Everest Base Camp Trek rewards travelers who take the time to explore the Khumbu to its fullest, navigating unnamed valleys of astonishing beauty and trekking alongside rivers rushing with glacial meltwater. You can expect to spend anywhere from one hour to six hours on the trail each day, enjoying the sights and sounds of Nepal's most breathtaking environments. All told, the Everest Base Camp Trek covers approximately 130 kilometers of pristine wilderness, punctuated with mountainside villages inhabited by friendly locals. Alpine Ramble Treks has developed a variety of itineraries in the region, each of which will allow you to experience the spectacle of Mount Everest for yourself. Our classic itinerary takes 14 full days to explore the length and breadth of the Khumbu, beginning with an epic flight from Kathmandu to Lukla before winding its way to the foot of the tallest mountain in the world. But if you have less time to spend on holiday, don't worry—we've also crafted shorter itineraries for on-the-go travelers. Thanks to the expertise of our guides and porters, you can actually reach Everest Base Camp in less than one week. From five-day itineraries to 16-day itineraries—and everything in between—the only thing standing between you and Mount Everest is the question of your own ambition.
Accommodations
The Everest Base Camp Trek is an exciting, rugged adventure of the highest caliber—but that doesn't mean you have to rough it. Due to the enduring popularity of this world-famous trail, teahouses and trekker's lodges have sprung up all along our route. Each night, you can look forward to simple accommodations with a warm bed, heavy blanket, and a home-cooked meal. You'll enjoy the famous hospitality of Khumbu's Sherpa culture as you share the living spaces of friendly mountain villagers and explore the surroundings of their high-altitude towns. Some of the trail's more populous stops, including the colorful trading hub of Namche Bazaar, even have a number of restaurants and bakeries where you can savor some truly local delicacies. You might set foot on the Everest Base Camp Trail to see the world's tallest mountain, but don't be surprised if some of your fondest memories include the humble and welcoming lodges where you'll lay your head to rest each night.
Meals
There's no better way to power through miles and miles on the Everest Base Camp Trek than to fuel your body with the ubiquitous dish of the mountains: dal bhat. This tasty entrée consists of lentil soup, plenty of rice, and tasty vegetable curry. You can also expect to enjoy sides like yogurt, chutney, and pickled vegetables to enhance your lunch or dinner. Another popular dish is the noodle soup known as Thukpa; this is a hearty, warming broth with ingredients that vary considerably across the length and breadth of Nepal. Of course, no adventure in the high Himalayas would be complete without a heaping plate or two of momos. These dumplings are packed with meat or vegetables and either steamed or fried to perfection, and they can be found in just about every mountain village in Nepal. But don't be dismayed if you prefer familiar comfort food—meals like pizza, chow mein noodles, and even cakes and brownies can be found in the busier towns like Namche Bazaar.
Packing
Packing for the adventure of a lifetime can be a daunting task, but Alpine Ramble Treks is here to help. In fact, when you book one of our Everest Base Camp Trek tours, we'll provide you with lots of gear and supplies to help you on your way. We'll bring sleeping bags, warm-down jackets, walkie-talkies, trekking poles, and duffle bags. This leaves you free to focus on the essentials: layered clothing, trekking pants, hiking boots, flashlights, water bottles, medicine, and first aid supplies. For a comprehensive packing list, check out any of our Everest Base Camp Trek itineraries—and don't hesitate to reach out to us with any questions.
Conclusion
The Everest Base Camp Trek is a real adventure, fully deserving of the almost mythical reputation it enjoys among enthusiastic trekkers. But reaching the foot of the world's highest mountain is absolutely within the reach of most travelers in reasonable physical shape who have the passion to reach their goal. Here at Alpine Ramble Treks, we hope that our Complete Guide to the Everest Base Camp Trek has dispelled some of the mystique of this world-class hiking itinerary—without sacrificing any of the mysterious allure that characterizes each step of its steep, winding, and breathtakingly beautiful footpath. We hope to see you on the trail!