Your Complete Guide to Pregnancy Leggings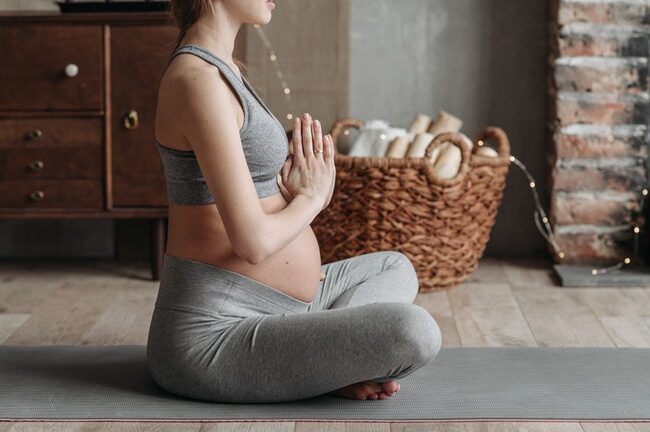 Whoever is planning a pregnancy, is probably planning the new wardrobe collection alongside it too! A complete makeover of the fashion statement during pregnancy is a new trend many millennials and gen Z like to follow. And it doesn't even come as a surprise. After all, this is going to be one of the most memorable parts of their lives.
If you or anyone of your loved ones is going through a similar phase, you might as well want to include pregnancy leggings in your workout or daily outfits. For those of you who haven't heard about it before, here is your complete guide to pregnancy leggings. Get ready to ask your doctor or physiotherapist what's best for you and then flaunt the new comfy and supportive leggings as and when you like.
What are pregnancy leggings?
Pregnancy leggings look just like normal leggings except they are made for wearing during and after pregnancy. The material of make allows elasticity and support in the required amounts and the required regions. For example, many women face SI joint pain or uterine incontinence during and a few months immediately following childbirth. Pregnancy leggings are designed to provide enough support to reduce their symptoms up to an extent based on the severity of the condition.
Pregnancy leggings are also great when working out during pregnancy. They help hold the lower back in place while you focus on strengthening other muscles for a better childbirth experience.
How do they work?
Pregnancy leggings are designed with anatomical support panels meant to deliver regulated and constant compression to targeted regions. They can activate muscles and encourage core stability to reduce swelling and muscle fatigue. They are ideal for treating conditions such as lower back pain, mild varicose veins, pelvic girdle pain, vulvar varicosities, etc.
What are some of the types of pregnancy leggings?
Pregnancy leggings are broadly classified into two types as per the length and coverage they provide. They are:
1. Based on length
• Full-length leggings
These leggings can be worn like any other black leggings and serve as the fashion staple they are. They can provide the best venous return and are suitable for women living in colder climate areas. If women in warmer climates find these unpreferable, they can always go for shorter lengths.
• Regular (knee-length) shorts
These leggings, as their name suggests, are mid-length shorts. They are multipurpose as they can be worn as underwear or outerwear. Implying, you can choose them as your yoga pants or comfortable underpants to that beautiful dress or tunic you brought. Their venous return is slightly better than the mini pregnancy shorts.
• Pregnancy shorts mini
Pregnancy shorts mini is the shortest of all three. They can be easy to put on and ideal for hotter climates. Women can wear these as normal shorts except that these also provide the required support.
2. Based on coverage
Some women prefer full bump coverage, while others like to keep it under the bump only. Here are the two types of pregnancy leggings based on the coverage they provide and the situations where they can be ideal.
• Under the bump
These pregnancy leggings are suitable for women who have sensitive or itchy skin and/or live in a hotter climate. Not covering the belly is also ideal when women feel hot during pregnancy.
• Over the bump
For women living in colder climates and requiring full coverage, these leggings work wonders. They also provide the feeling of extra support without compressing the baby bump.
The choice of the coverage of a pregnancy legging must be done keeping in mind your comfort level, pregnancy type, and doctor advice.
Advantages of wearing pregnancy leggings
The advantages of wearing pregnancy leggings are numerous. They can be the staple to a woman's style statement and also be nice on the strained muscles. Not all stylish clothes need to be bad for your body, especially your pregnant body. Let us have a look at some of the advantages:
• Provide support to the lower back and pelvic region
• Can be paired with all types of clothes
• Can be ideal for fitness activities as well as leisure
• Made of a breathable material
• Can help reduce discomfort and SI joint pain during pregnancy
• Can be worn on any occasion
Which one do you need?
Choosing the right pair of pregnancy leggings for yourself might not be as easy as it sounds. You have so many considerations related to your pregnancy and the climate and whatnot. Also, the right brand to select can be overwhelming.
However, these problems can be solved by talking to your doctor or physiotherapist. They know your pregnancy and can help narrow down the choice of leggings suitable for you. Select the brand that has been worn by many of your friends and family and has earned positive reviews. After all, betting on unknown brands and materials to hold your baby bump in place is the last thing you want to do.
Once clear with the brand to choose from, the selection of length becomes easier. You can choose as per your comfort or have all three lengths to wear alternatively!
In the end:
Pregnancy leggings can be an irreplaceable part of your maternity wardrobe. Consulting your doctor or physiotherapist to know more about the type of pregnancy leggings you should wear can be really helpful in the long run instead of deciding on your own. They might be able to guide you more and provide you with better options to try. These pieces of fabrics aren't just meant to uplift your style factor, but also serve to provide the support you require in your lower back and pelvic floor regions.
We wish you make the right choice and find the best pregnancy leggings for yourself or a loved one!