Top 10 Overseas Education Consultants in Guwahati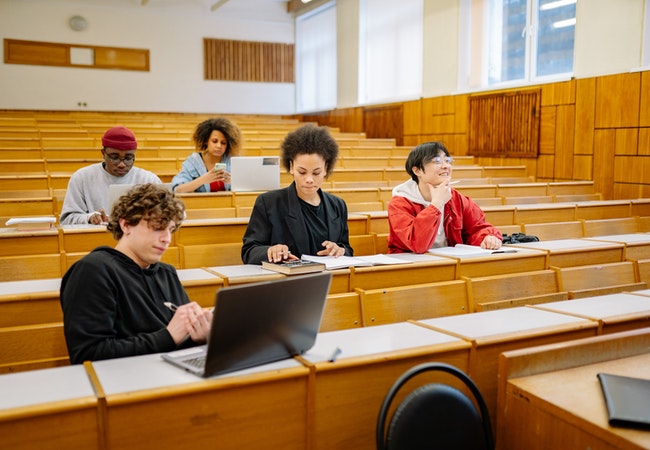 From all over India, students go abroad for higher education. And according to a report from BOI (Bureau of Immigration), so far around 1,30,000 student went for foreign education in 2022. Although, go abroad for study is a dream for many students. So, in this circumstances, many students try to find out a right study abroad consultant that can give them right information and a counsellor for proper guidance. Thus, In this article, you will get a definitive guide about Top 10 Overseas Education Consultants in Guwahati.
Top 10 Study Abroad Consultants in Guwahati
1: Aspire Abroad Education
​​Founded by three MBA graduates from USA, Aspire Abroad is the only institute in entire North East part of India which provides end to end admission services in both Medical and Non-Medical courses to destinations all over the globe by partnering with 6oo+ leading universities.
Aspire Abroad, a Study Abroad Consultants in Guwahati provides complete career guidance including GMAT / GRE / TOEFL / IELTS exam preparation, University selection and application, Visa counselling, Scholarship guidance, Hostel accommodation assistance, Job opportunity tips etc. The best part about us is each of our consultants has earned a MBA/ MS degree in USA or in Europe.
Address: Bora Service, Bijoy Bhawan, 2nd Floor, Saniram Bora Road, Guwahati, 781007
Timing: Monday to Saturday 10:00 Am to 5:30 Pm
Phone: 070353 35220
Email: info@aspireabroad.in
Website: http://www.aspireabroad.in/
2: PREMIER EDU – Educational Consultants
PREMIER EDU is an Overseas Education Consultants in Guwahati, providing services since 2011.We provide free counseling and information for medical, dental, nursing, engineering, architecture, management, law, degrees, diplomas and many more. We provide direct admissions throughout India, with lowest rates and packages. We also provide admissions in abroad for MBBS in-Philippines, Ukraine, China, Russia, Nepal etc. It gives 100% genuine admissions.
PREMIER EDU services gives counseling and admission guidance for a number of prestigious institutions for various courses such as-medical, dental, engineering, B.sc courses, pharmacy, nursing, law, management, master degree, diplomas, degrees, dual degree, integrated courses and many more.
Address: H/No.68, 1st Floor, Near – Bylane No. 9, Rajgarh Rd, opposite China Town Restaurant, Guwahati, Assam 781003
Timing: Monday to Saturday 10:00 Am to 6:00 Pm
Phone: 078968 93199
Email: premier.edu12@gmail.com
Website: http://premieredu.info/
3: POLYGLOT Study Abroad
POLYGLOT STUDY ABROAD is a leading Study Abroad Consultants in Guwahati, It has an option for every student who wishes to study abroad. The Overseas Education counselors at POLYGLOT study abroad are fully qualified to find the best study abroad options for those who wish to study overseas.
We at POLYGLOT study abroad believe that studying abroad doesn't cost the earth. There are options with zero-tuition fees or reasonable fees so that you don't have to stifle your dream to study in a top-ranked university abroad. We believe in placing our students in highly reputed, world-class universities abroad!
Address: Nayanpur Rd, GMC Ward Number 44, Ganeshguri, Guwahati, Assam 781005
Timing: Monday to Saturday 10:00 Am to 4:00 Pm
Phone: 095115 32956
Email: info@polyglotz.in
Website: https://thepolyglot.in/
4: Global Reach
Over the last 32 years, Global Reach, Overseas Education Consultants in Guwahati has counseled over 4,00,000+ students and successfully placed more than 50,000 students in various prestigious institutions in more than 18 countries.
According to various surveys and feedback, a student counseled by Global Reach is better informed than their peers. The client satisfaction rate of Global Reach's delivery mechanism is close to a whopping 100%.
Global Reach is steered by the far sightedness and vision of its Managing Director, Mr. Ravi Lochan Singh, who has been an elected member of The Association of Australian Representatives in India AAERI (AAERI), since its inception in 1996. Presently, he is working as President of this reputed outfit for the fifth time. Global Reach is a member of AAERI (Association of Australian Education Representatives in India).
Address: 5th Floor, Peace Enclave 724 City Mart Building, GS Rd, Guwahati, Assam 781007
Timing: Monday to Friday 10:00 Am to 6:00 Pm
Saturday: 9:00Am to 4:00 Pm
Phone: 098641 53811
Email: grinfo@globalreachonline.com
Website: https://www.globalreach.in/
5: Manya – The Princeton Review
At Manya – The Princeton Review, we provide study abroad admission services, wherein each student gets access to our proven proprietary framework and internal portal for optimizing his or her candidacy. The Admissions Counselling Service (ACS) at Manya, is an amalgamation of highly specialized and customized services. The student gets assistance in the admission process right from university selection to visa counselling.
Currently, Manya – The Princeton Review have 600+ university partnerships across the globe; which offer our students the experience and flexibility of choosing educational options aligned to their dreams. Manya, Study Abroad Consultants in Guwahati holds the distinction of placing study abroad applicants in top-ranked universities such as Harvard, UPenn, MIT, Indian School of Business (ISB), Stanford, London Business School, New York University (NYU) and many more.
Address: 3rd floor, 230, Rajgarh Rd, Sarania Hills, Guwahati, Assam 781003
Timing: Monday to Saturday 10:00 Am to 6:00 Pm
Phone: 078960 22232
Email: info@manyagroup.com
Website: https://www.manyagroup.com/rajgarh-guwahati/
6: Orchid Education Foundation
With countless options available from Medical to humanities, from mass communication to hotel management, it has become little difficult for students to choose the right path. Here comes the role of education consultants, who with their expertise suggest most suitable solutions to students keeping in mind their aptitude and outstanding performance in any specific field. Analyzing the educational background of the students and conducting various meetings with them, the Overseas Education Consultants in Guwahati sure that the course they suggest proves to be beneficial for students. Concept of education consultancy is still new in India but due to its increasing need, it is gaining popularity at a rapid pace. Students understand that choosing correct course is imperative as it is the only way that ensures their good professional life. In this regard, they visit Education Consultant and openly discuss their areas of interest and seek advice from him/her. Students also visit these consultants to get the information about the college or institute; they want to take admission in.
Address: 3F Subham RedStone Down Town, GS Rd, Guwahati, Assam 781022
Timing: Monday to Saturday 10:00 Am to 6:00 Pm
Sunday 10:00 Am to 7:00 PM
Phone: +91-9085065555
Email: info@orchidfoundation.in
Website: https://www.orchidfoundation.info/
7: Inspirus Education in Guwahati
The team at Inspirus Education, a Study Abroad Consultants in Guwahati, comprises professionals who are experts in their own fields & thus are able to provide the ideal guidance to the students. With a collective experience of more than 30 years, the team at Inspirus through comprehensive programs thrives to provide the students with all the support they need to go abroad & study in their dream university. Personalized guidance from our experts ensures that each student gets the guidance they need to go ahead in their career.
Our Unique approach gives the students an edge over the others in their University applications. Though the counseling differs from course to course, depending on what the student wishes to take admission in, the basic structure still remains the same.
Address: House no. 13, 1st floor, Ananda Nagar Bye Lane, 3, GS Rd, opp. to Anil Plaza, near Saharia Blood Bank, Guwahati, Assam 781005
Timing: Monday to Saturday 10:30 Am to 6:00 Pm
Phone: 072088 89279
Email: info@inspiruseducation.com
Website: https://www.inspiruseducation.com/
9: Indus Global Edu
Indus global edu career counseling is one of the best and the pioneer in the field of Overseas Education Consultants in Guwahati, helping schools and college students to make an absolute right career decision in a new and innovative method. Today global education has become a widespread phenomenon with students opting for higher education not limited to their own country but to acquire global opportunities. And to expand their horizon and show them the best path we need a consultant who can only provide the best guidance. We are here to provide career counseling and guidance to students based on their specific needs with our experienced consultants, who know universities, their admission procedures, and other such things. Our career counseling services help the students to explore opportunities beyond
Address: Habibur Rahman Complex, Assam Trunk Rd, Adabari, Guwahati, Assam 781012
Timing: Monday to Saturday 9:30 Am to 6:00 Pm
Phone: 087248 07732
Email: info@indusglobaledu.com
Website: https://www.indusglobaledu.com/
10: Enrolar
Enrolar is amongst the best Overseas Education Consultants in Guwahati. Roshan Kumar Bhattarai is the proud founder of enrolar.in, possessing 4 years' experience in Education Marketing as IT & Digital Marketing Manager. He is our assigned senior counselor and a professional consultant who is passionate about providing our students with opportunities to achieve their goals.
Roshan belongs to an Alma Mater Society, where he undertook Business Studies at Westminster International College in Malaysia. He pursued an education in electrical engineering at the North Eastern Regional Institute of Science and Technology, India which formed the foundation of his future career.
Address: 17/6, August Kranti Path, Rukmini Gaon, Guwahati, Assam 781022
Timing: Open 24 hours
Phone: 1800 891 8998
Email: info@enrolar.in
Website: https://www.enrolar.in/