10 Yoga Institute in Ahmedabad for Yoga Classes, Program, Retreats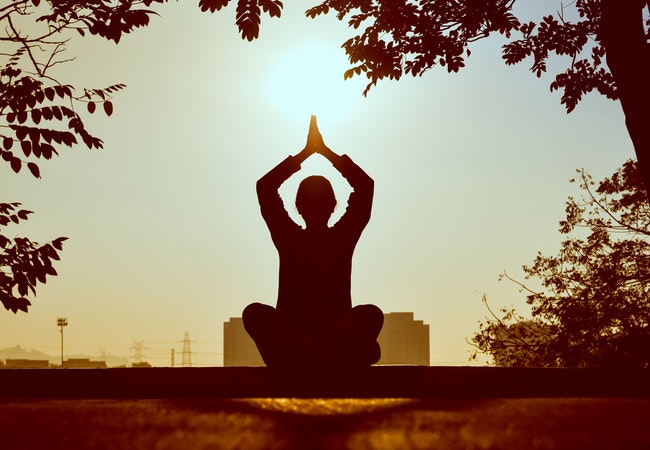 Yoga is a formula to get fit and healthy. It is a form of exercise that improves mental and physical wellness to all ages of people. Everyday yoga practices give a natural source of energy to stay calm and positive. So if you want to increase your focus and strength towards your goal then start practicing yoga. You can opt for online resources to know more about yoga poses and its benefits. Also, Yoga experts say it is a secret of happiness and a key to success. Through this article, I am going to share details about Yoga Classes in Ahmedabad that are offered by yoga institutes to give a solid mantra to live a long and stress-free life.
Top 10 Yoga Classes in Ahmedabad
1: Nirvikalp Yoga Academy
Nirvikalp yoga institute in Ahmedabad directed by Dr. Bhaskar Hindustani. He is a highly qualified and certified yoga teacher with numerous degrees in MA(Yoga), Ph D(Yoga) . Mr Abhay Kumar is an experienced teacher who holds the degree of Diploma in yoga and is the main teacher in the academy.
Address: 1st Floor, Ramjyot Society, Swaminarayan Museum Road, near PARISHRAM TOWER, Ankur Char Rasta, Naranpura, Ahmedabad, Gujarat 380013
Timing: 7:00 Am to 9:00 Pm
Phone: 091733 38982
Website: https://www.nirvikalpyogaacademy.org/
2: Exhale Yoga School
Exhale Yoga School is registered with Yoga Alliance USA. The founder, Samarth Dave is an experienced full time yoga teacher and trainer with 15+ years of experience. This yoga institute in Ahmedabad offers yoga teacher training and courses along with corporate yoga classes.
Address: Mansi Cross Road, B 109, Ratnakar Nine Square Near Keshavbaug Party Plot, Vastrapur, Ahmedabad, Gujarat 380015
Timing: Monday 5:00 Am to 11:30 Pm | Sunday 4:00 Am to 5:30 Pm
Other Days 5:00 Am to 11:00 Pm
Phone: Phone: 099090 01048
Website: https://www.exhaleyogaschool.com/
3. Dilip Dholakia's Academy of Yoga and Balance Therapy
Dilip Dholakia's Yoga center in Ahmedabad was started in 2015. Yogachrya Dilp Dholakia has 35 years of experience and he has worked with many reputed organizations like Yog Jivan Institute and organized a successful yoga camp for Vasant Nature cure Hospital. Also, he has worked as Yog Director at Aadarsh Ahmedabad Trust for 2 years.
Address: 304-305, Satva, Maple County Rd, opp. Bhavin school- Mahalaxmi Mandir, nr. Mahalaxmi Mandir, Thaltej, Ahmedabad, Gujarat 380059
Timing: Monday to Saturday 7:00 Am to 11:30 Am 4:30 Pm to 7:30 Pm
Phone: 090330 65496
http://www.yogacharyadilip.com/
4. Gyanish Yoga & Wellness
Gyanish Yoga institute in ahmedabad started in 2015 and it has 3 branches across Ahmedabad. With a team of 30+ certified yoga teachers, Gyanish provides perfect yoga training and classes in Ahmedabad. Mr Gyan Achrya is the founder of this organization and his aim is to give complete holistic health to everyone. They also organize contests in order to increase awareness of yoga in people and award them with certification and prizes.
Address: O-303 Gala Empire, Drive In Rd, opp. Doordarshan Tower, Ahmedabad, Gujarat 380052
Timing: Monday to Friday 6:00 Am to 12:00 Pm | 1:30 Pm to 8:00 Pm
Saturday 6:00 Am to 12:00 Pm | 5:30 Pm to 9:00 Pm
Phone: 091376 25324
Website: https://gyanishyoga-wellness.business.site/
5: Kaivalya Yoga shala
Kaivalya Yoga Shala is a IYA (Indian Yoga Association) certified yoga school in Ahmedabad. Also it's affiliated with Registered Yoga School (RSY200) from the USA. They offer yoga teacher training programs, yoga workshops and yoga classes. The founder Giriraj Sharma is an experienced teacher and he has been in this field for 20+ years.
Address: Milestone Building, 380054, Drive In Rd, Nilmani Society, Memnagar, Ahmedabad, Gujarat 380059
Timing: Monday to Sunday 7:00 Am to 7:30 Pm
Phone: 093289 95728
Website: https://www.kaivalyayogashala.com/
6: Ritika's Yoga Studio
Ritika Yoga Studio provides best yoga classes and training in Ahmedabad. Along with this, they also offer facilities for a personal family session with lowest charges. The founder, Ritika is a yoga instructor who has deep knowledge and a Master Degree in Yoga.
Address: Anurag Flats, 2nd Floor, above UCO Bank, Bhairavnath, Maninagar, Ahmedabad, Gujarat 380028
Timing: 6:00 Am to 9:00 Pm
Phone: 088667 26668
Website: http://www.ritikasyogastudio.com/
7: Damaru Yoga And Sound Therapy Studio
Damaru Yoga Studio founded by Mauli Bavisker, who is a trained yoga therapist and an International yoga teacher. She has wide knowledge about yoga therapy, sound therapy, healing vedic chants etc. They provide group yoga, one-on-one therapy, vedic chanting, children and teen yoga, meditation and pranayama and yoga retreats services for corporates.
Address: 17/194 Pooja Apartments, Nr Himmatlal park, Bimanagar, Ambawadi, Ahmedabad, Gujarat 380015
Timing: Monday to Friday 6:00 Am to 8:30 Pm
Phone: 070434 20022
Website: https://www.damaru.in/
8: Antyodaya Yoga Studio
Antyodaya Yoga Studio is a part of Poornamidam Yoga Private Limited. They offer a wide range of yoga programs and classes that help thousands of people to recover from stress, anxiety and other diseases. Everyday 200+ people visit their school for training and classes. And, the certified yoga experts give their best to everyone with an energetic and motivating yoga session.
Address: 601, Palladium Business Hub, above Pantaloons, Chandkheda, Ahmedabad, Gujarat 380005
Timing: Monday to Saturday 6:00 Am to 9:00 Pm
Sunday 6:00 Am to 10:00 Pm
Phone: 088668 01000
Website: http://antyodayayoga.com/
9: Yoga with Uday
Uday is the founding member of this yoga institute. He is an certified yoga teacher 500 hrs from Krishnamacharya Mandir, Chennai. Also he has a degree in diploma from Annamalai University. They have many years of experience and provide healthy yoga sessions for individuals and yoga retreats programs for corporate.
Address: Bungalow C20 basement , Ashok nagar society, gate no2 Behind sundarvan, Satellite, Ahmedabad, Gujarat 380015
Timing: Monday to Sunday 6:30 Am to 7:30 Pm
Phone: 088980 19872
Website: http://www.yogawithuday.net/
10: Om The Third Eye Yoga Studio
Om the third eye founded by Mrs Kalpana Paniker who has done Yoga TTC from Lakulish University and M.Sc Yoga – Gujarat Vidhyapith. They offer various kinds of yoga training and classes in ahmedabad along with meditation. Also, they train athletes very well for district, national and international.
Address: Mehta Complex, 11, jay hind char rasta, near Radhavallabh mandir, Maninagar, Ahmedabad, Gujarat 380008
Timing: Monday to Saturday 6:00 Am to 8:00 Am
Phone: +91-8866142342
Website: http://www.omthethirdeyeyogastudio.in/