Everything You Need to Know Before Opting for a Cosmetology Training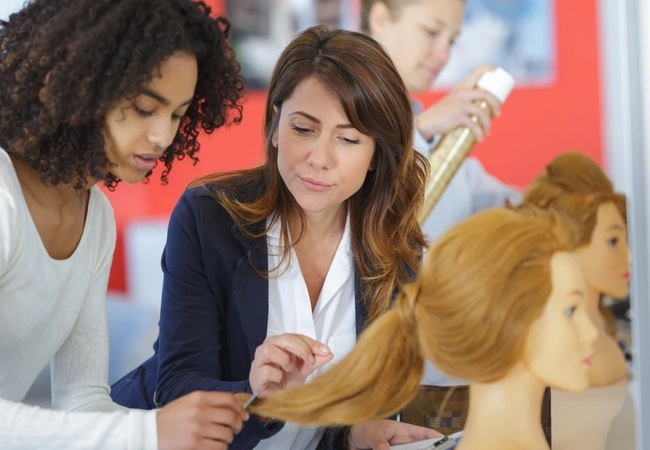 People generally go to a salon for the best relaxation and self-pampering sessions whenever they want to indulge themselves. Beauticians, often called cosmetologists, are at their service for the desired treatment or makeover. Cosmetology is the study of the application of beauty treatment. Taking admission to a beauty school that offers the best cosmetology training in Texas can help you obtain a TDLR license easily.

Individuals who choose to become a cosmetologist require a proper TDLR Certified License to become a professional in this field. As a cosmetologist, it is very important to make the client look and feel better. In addition, they help them to create and maintain healthy hair, skin, and nails. 

In this blog, we will discuss almost everything about Cosmetology Training, as mentioned below:

Types of cosmetologists
Merits of choosing cosmetology training
Why one should build a portfolio
Conclusion
Types of Cosmetologists
A trained and licensed person who performs cosmetic treatments with their area of expertise. Some of them are listed below:
Hair Stylist
Every salon needs a person who is licensed in cutting, coloring, and styling the client's hair. Curling, straightening, crimping, and many more complex styles are there in which these stylists are experts. 
Makeup Artist
A person with certified knowledge of makeup application and beauty products with the procedures to use the same is known as a makeup artist. The makeup can range from natural looks to glam and dynamic styles for special occasions or photo shoots, depending on the client's needs. 
Esthetician
An expert who is firm in their skill of maintaining and improving the skin is called an esthetician. An esthetician can work in many environments, such as salons and skin care clinics, and even start private practices if they are licensed.
Nail Technician
A nail technician is a person exclusively for manicures, pedicures, and other cosmetic treatments for nails. Furthermore, these technicians are experts in modern nail art.
Spa Therapist
They are specialized in providing relaxation and resurrection services. In addition, best cosmetology training in Texas provides therapeutic massages such as body treatments and wellness therapies to clients per their preferences.
Merits of Choosing Cosmetology Training
If you opt to be a cosmetologist as a career, getting trained in the same is one of the best decisions to make in order to be the best in the field and receive a better salary from others. Some of the benefits are listed below:

Hands-On Experience
Working with real clients provides students with the experience they need to gain professional skills and confidence. The cosmetology training program helps them with field exposure as well.
Network Opportunities
Cosmetology training programs provide students with the advantage of linking with other professionals in the industry, which can lead to valuable networking opportunities and potential job leads in the future.
Career Opportunities
Best cosmetology training in Texas opens up an array of career paths in the beauty industry, with all the cosmetologist expertise, including hair stylist, makeup artist, esthetician, nail technician, and more.
Personal Growth and Development
Cosmetology training allows individuals to develop their creativity and technical skills and can also improve their communication and customer service.
Flexibility
The beauty industry is a flexible field, with the benefits of part-time, freelance, or self-employment jobs, giving an individual an excellent option for work-life balance.
Why One Should Build a Portfolio?
A portfolio is vital in almost all fields as this showcases your previous work and skills, and the employer or the client can trust you and is comfortable before you provide your services. The best cosmetology training in Texas portfolio due to several reasons and some of them are listed below:

1 – Demonstrating Skills
Your skills and the kind of work you have done and can do are indicated by your portfolio. Also, your expertise, techniques, and creativity are showcased by the same.
2 – Marketing Tools
A portfolio can be used as a marketing tool, helping to promote the services provided by the cosmetologist in order to attract customers.
3 – Evidence of Experience
A portfolio provides evidence of the candidates' experience, helping them to establish their credibility in the field.
4 – Personal Growth
Building a portfolio also allows cosmetologist to track their personal growth and progress over time, helping them to identify areas for improvement and set new goals. 
5 – Professional Development
A portfolio can also aid in professional development as it highlights their strengths and weaknesses, which can help cosmetologists focus their training and education efforts on areas where they need the most improvement.
Conclusion
Overall, Cosmetology is a field where one can work with or without training, but getting professional training and building a portfolio is a critical aspect of a cosmetologist's career, helping them to grow on a professional level and encouraging them to showcase their skills and attract new clients. 

Texas Department of Licensing and Regulation, abbreviated to TDLR, is responsible for ensuring the safety and well-being of clients and customers through cosmetic products and services regulations. License and certification are provided to qualified cosmetologists by TDLR for relevance and customer confidence. This license is as important as getting the best cosmetology training in Texas. 

Finally, Cosmetology training is needed for every individual choosing it as a career for better opportunities.