Stay Well-Fed And Happy: Essential Camping Kitchen Gear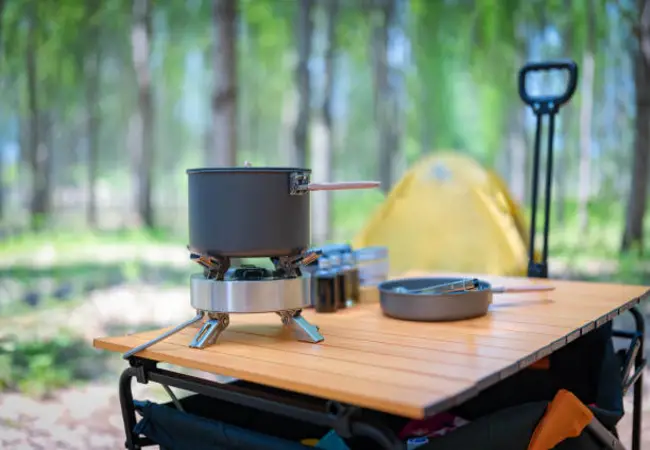 When going on a camping adventure, everything matters. Just as you prepare for the trip, you also have to make arrangements for your feeding and entertainment. No matter the type of outdoor adventure you're embarking on, you must pick the relevant items for your trip.

Your meals are as important as any other thing you'll be doing in your camping. Staying well-fed makes you comfortable and happy while in the jungle. That's why you must have the essential camping kitchen gear in your kitty.

Whether you're a pro in camping or a newbie, this comprehensive checklist will assist you in packing the right kitchen gear for your camping experience. Depending on the type of adventure you're making, you can customize the list to match your desire.
Essential Camping Kitchen Gear
Going camping can be fun if you go with the right camping equipment. Similarly, not picking the right gear can prove hurting. Here is some vital kitchen gear that can enhance your camping experience.

One of the most important camping kitchen gear to carry on an adventure is the camping stove. It's an indispensable item if you truly want to stay well-fed. It could cost pretty much to depend on purchased food from restaurants when camping. Moreover, you may be far removed from the city to find a restaurant for your meals at odd times.

Finding the right stove for camping can be daunting. However, some amazing, time-tested, stress-free camping stoves guarantee regular cooking with optimal comfort to keep you well-fed and satisfied in your camping.

Finding the right stove for camping can be daunting. However, some amazing, time-tested, stress-free camping stoves guarantee regular cooking with optimal comfort to keep you well-fed and satisfied in your camping.
2. Fridge/Freezer
Little things that you overlook can potentially ruin your trip. Your adventure could turn sour if you don't have the essential gear to preserve your food or chill your drinks, including water.

Ideally, keeping your food fresh is vital when you're in the jungle. Regardless of the type of adventure, a portable fridge or freezer can make your journey a memorable one.

A fridge will help you reduce waste while enjoying colder drinks and well-preserved food. A cold beer can help calm your nerves after a hard day's struggles in the bush. Discover the latest portable refrigerators from Dometic with various sizes that meet your needs.
3. Matches/Lighter/Firestarter
Your cooking is incomplete, or can't happen without firestarters or matches. You need matches or lighters to light candles or a stove (depending on the type).

You need a Firestarter if you have to make campfires. These are critical items that you should not forget.
4. Kettle
To effectively enjoy your camping experience – especially regarding cooking and staying well-fed, you need a kettle to boil water. It's a valuable item to have at the campsite.

With your kettle, you can boil water for coffee, tea, or chocolate. You can also wash your dirty dishes with hot water where necessary. A portable kettle is a must-have for any camping adventure.
5. Portable Coffee/Tea Maker
A portable coffee maker is undeniably a vital gear to take to your camping adventuree. One thing is certain, you need a coffee-making machine at your camping ground.

There are several ways to make your coffee or tea. The important thing is to remember to add it to your list of items.
6. Kitchenware
It may seem needless to remind you of the need to include kitchen utensils when embarking on your adventure, but they constitute the essential items that can give you peace of mind. Imagine getting to the campsite only to discover that you left plates, spoons, cups, knives, etc., at home.

Cooking utensils and their accessories are the items that make you comfortable when you want to have your sumptuous meal. It can be a misnomer to arrive campsite without these essentials.
7. Water Bottles
Water bottles or jugs are essential when going on camping exercise. You need to stay hydrated all the time. Large water jugs will help store up some quantity of water while the reusable water bottle allows you to have regular sips.

Do neglect these minor but essential items because they can make your experience terrible in your camping.
8. Plastic Bags for Gabbage
This is one area campers are reluctant to prepare for. It's probably the list among their considerations, but it's equally important.

Dish-washing and cleaning up your environment can be made easy by utilizing the proper gear. Trash cans and waste bins can be useful while camping. Disposing of your waste will prevent messing up the camp environment.
9. Other Accessories and Utensils
Listing every item for your camping kitchen gear may seem unnecessary, but it's good to help pick the vital things that will enhance your camping experience.

There might be a temptation to forget little items such as table cloth, can and bottle opener (or corkscrew), tongs, spatula, cutting board, and a lot more. This is just a reminder of some of the things you're likely to overlook.
Conclusion
Having a great camping experience begins with getting the right camping kitchen gear. The quality of meals you eat depends on how adequately prepared you are for your camping adventure.

If you can utilize this comprehensive, though not exhaustive list of kitchen gear, you're sure to have an exciting experience in your next camping journey. Camp with confidence. Build your camp kitchen and stay well-fed throughout your camping journey.