7 Best Places to Buy Camping Accessories Online in India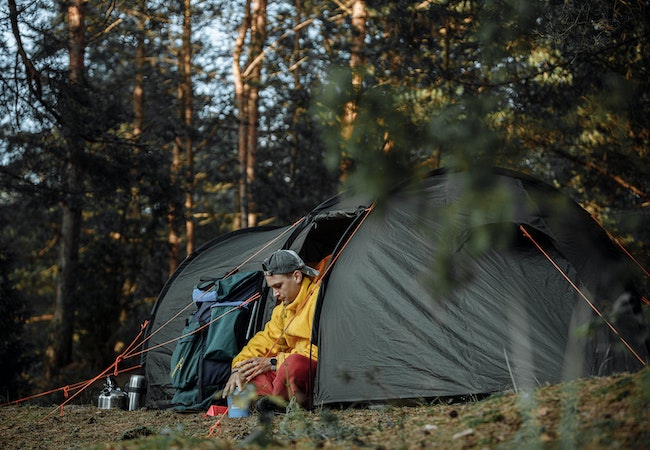 Are you planning for an adventurous trip and don't know where to buy camping equipment online in India? Because without camping gear it's very difficult to climb on hills and enjoy the climate. And, with the help of quality and durable camping or trekking gears your trip can be superb and memorable. So, you don't need to worry a bit, in this blog you will get a quick idea to find the best online store to buy camping gear at the best prices.
Top 7 Store to Buy Camping Accessories Online in India
1: Stepin Adventure
Stepin Adventure was founded by Shripad Sapkal, who is a mountaineer and rock climber. Studied his education at the Nehru Institute of Mountaineering, Uttarkashi. With the help of his proven experience and knowledge, he has started an online camping accessories store in Pune, India. Which provides A to Z camping and trekking gear at competitive prices.
Address: Anand Complex, 3, Paud Rd, above Lenskart Showroom, Alkapuri Society, Kothrud, Pune, Maharashtra 411038
Timing: Monday to Sunday 9:30 Am to 8:30 Pm
Phone: 083800 54989
Website: https://www.stepinadventure.com/
2: Adventure Gears
Adventure Gear is known to provide mountaineering, camping, rock climbing, and skiing equipment to technical gear, safety equipment, and industrial rope access. Their quality product is tested and verified by experts to make your adventurous trip safe and fantastic. You will find here the lowest price on online and offline shopping.
Address: 21, Second Floor Shivaji Marg Facing Rama Road Near Satguru Ram Singh Marg Metro Station, New Delhi, Delhi 110015
Timing: Monday to Saturday 10:00 Am to 7:00 Pm | Sunday – Closed
Phone: 011 4987 9350
Website: https://adventuregears.com/
3: Trek Kit India
Trek Kit India is one of the leading outdoor equipment shops to buy camping accessories online in India that offers every kind of camping and trekking gear online at economical prices. It offers a customer loyalty program and rewards points and 10% off on orders over 5000 INR. This website has a superb refund policy that attracts customers and helps businesses to reach new heights.
Service Options: In-store shopping · In-store pick-up · Delivery
Address: 922, Sector 82, JLPL Industrial Area, Sahibzada Ajit Singh Nagar, Punjab 140306
Timing: Monday to Saturday 10:30 Am 6:00 Pm | Sunday – Closed
Delivery 11:00 Am to 6:00 Pm
Website: https://trekkit.in/
4: Add-Venture India
Add-venture India is the one-stop solution for camping, trekking, and hiking gear online in Mumbai, India. Founded by Prasanna Joshi, who is in the market for the last 3 decades and is the mountaineer and rock climber hero. Along with offering high-quality camping accessories, he also guides mountaineers in adventure activities and mountain climbing.
Service Options: In-store shopping · In-store pick-up · Delivery
Address: A/4/46, HH Shree Mataji Nirmala Devi Marg, Sector 2, CBD Belapur, Navi Mumbai, Maharashtra 400614
Timing: Monday to Saturday 10:00 Am to 8:00 Pm | Sunday – Closed
Website: https://www.addventureindia.com/
5: Mountcraft Outdoor Gear
Mountcraft Outdoor Gear is a discounted camping accessories online store in India. You can get 10% off while signing off and free shipping on orders above INR 3500. It provides camping, climbing, hiking, military, forest, and wildlife outdoor equipment.
Service Options: In-store shopping · Kerbside pickup · Delivery
Address: 63 Old Connaught Place Near Capri Trade Center, Dehradun, Uttarakhand 248001
Timing: Monday to Saturday 10:00 Am to 7:30 Pm | Sunday – Closed
Phone: 097194 20541
Website: https://mountcraft.com
6: Outdoor Travel & Sports Gear
Outdoor Travel & Sports Gear pretends to be India's first motorbiking, adventure travels & sports gear online store. It offers a wide range of trekking, hiking, and camping accessories at the best prices with 100% guaranteed satisfaction. Also, provides OTG affiliate and earn programs for social media influencers and online channels.
Address: D-5, Unit # 131, Bhumi World Industrial Park, Village Pimplas, Bhiwandi 421302 Thane, Maharashtra, India
Phone: +91 – 8080 290 520
Email: care@outdoortravelgear.com
Website: https://www.outdoortravelgear.com/
7: Outdoor Adventure Gear
Along with providing trekking, hiking, climbing, and rafting accessories online in India, accept PayPal, Discover, Amazon Pay, Visa, Mastercard, Gpay, and other payment methods. Outdoor Adventure Gear is an ISO 9001:2015 certified online camping store whose delivery partner is DTDC, also provides second-hand camping gear at affordable prices.
Address: SE-2, Sridhar Enclave, Ajabpur Kalan, Mothrawala Rd, Dehradun – 248001 Uttarakhand, India
Phone: +91-9412-0519-79
Website: https://www.outdooradventuregear.in/