Technological Advancements In The Digital Fitness Industry – What More Is There?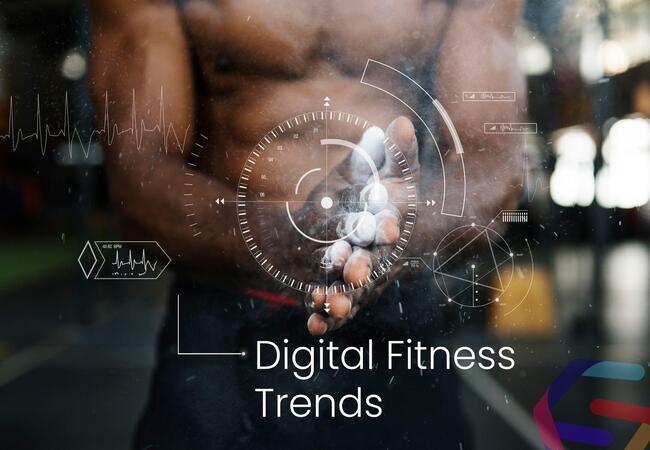 With time going on and health being the "utmost priority", everyone is becoming a fitness freak. COVID hit us hard and taught us many valuable physical and mental health lessons.

The endless lockdowns made people create home gyms and use digitalization more than usual. Since virtual fitness classes proved so convenient, most humans don't seek the traditional way of working out anymore.

People are more interested in gadgets, streaming fitness, and overall innovation. The fitness market has also understood it very well and has introduced many digital fitness trends.

Today in this post, let's talk about these advancements and where the fitness industry will go with these trends.

Advancements In The Digital Fitness Industry
Gamified Exercises
The digital age has enabled the gamification of workout routines and almost every exercise.
For example, who thought women and men would be training their pelvic muscles while playing a little birdy game?

Pelvic floor exercises used to be boring, which made most people skip them. However, since they are essential for new mothers and males who have had prostate surgery, the fitness industry came up with something fun.

Perefit became the new idea which is a Kegel exerciser that operates on a video game. To make it work, you need to control it with your pelvic strength, which shows on your phone's screen as a game.

Another such innovation is the Capti Bike which implements the idea of 3D video games. The bike stimulates the riding experience of a person and presents 50 maps and interesting graphics. The Terrain Adaptive Resistance feature blurs the boundary between real and unreal, making it more exciting to exercise.

Hyper-Personalization With AI

AI has been establishing new revolutions in the fitness industry by becoming suitable to everyone's needs. It is the power of AI that we have programs tailored to individuals.

Artificial intelligence gives us the power to provide workout regimes that seem sound to our energy levels, fitness levels, goals, and even hormones.


Humans can now set the difficulty of their workouts, the number of reps, the time available, and all of this while having cost-effectiveness.


The technology can identify the movements and postures of the skeleton and suggests improvements accordingly. The future will surely bless us with applications and gadgets that bring a new dimension to our overall fitness sessions.

Tech Wearable Taking Over

Wearable devices are a big hit of the era; the search volume for "Oura Ring" alone has grown more than 3000% in recent years. In the year 2022, it has been estimated $90 billion was the spending on wearables.


Wearable tech has become a thing now, and people are eager to track their heart and sleeping patterns, blood sugar levels, and overall wellness. These devices collect biometric data and help people get a personalized diet chart that helps reduce existing ailments.


Gone are those days when smartwatches were hype; today, the advancement of wearables is defined by a ring. Oura ring is comfortable to wear all day long during all activities and provides you with important data.


Using the Oura mobile app, you can have all the information recorded and uncover the mystery of your body's functionality.

Meal Planners Emerging More Intensely

In the pandemic, many fitness apps bloomed in terms of setting the trends and letting people set their workouts virtually. The same resulted in earning revenues in millions on both iOS and Android.


Apps are going to continue doing it and growing even more immensely. They would bring more diets and kinds of workouts; new trends will emerge, becoming a matter of interest to millions of people.


For example, removing meat from your diet and including plant-based meat is today's mainstream. The same was not known a few years ago; more and more people are turning plant-based, seeing their cholesterol levels and other measurements.

Virtual Reality And Fitness Getting Side By Side

The futuristic experience is already here with companies using virtual reality in the fitness industry. Many headwear and eyewear are there that let you be in a virtual world of your choice while burning some calories and making you proud.


Today VR is not only for driving or learning how to drive a car for the first time; VR headsets are capable of improving your overall physical health while keeping the monotony aside.


Quest 2 with FitProVR, for example, lets you do all kinds of activities that burn your calories and get your metabolism going. Users can choose dancing, boxing, hand movements, stretching, meditation, or just exploring the world they always wanted to but with the twist of exercise.


Lanserhof, with their ICAROS workout, lets you experience flying and diving while going through many virtual worlds. Their VR helps train your core and upper body muscles while improving your reflexes and boosting your coordination.


Not only is the fun limited to you, but these concepts are multiplayer, which means you can have more excitement with other people or your buddies.


Going to Antarctica, Ireland, or any part of the world doesn't need a passport now! Adventure and fitness have no limits with such technologies!

Subscriptions All Around

Subscriptions are the new love of many fitness lovers. This is because they make workout sessions efficient and cost-effective while letting people exercise in their preferred space.


Hundreds of streaming platforms are rising and providing insanely crazy features that are a must-try. The fitness selling platform offers various workout programs according to weight, goals, fitness level, and the number of equipment.


All of these filter options were just a dream in the physical gyms and were absolutely charging hefty amounts.


On one hand, streaming platforms make the overall exercising sessions cost-effective for users; they also make it exposure-bringing and income-oriented for online instructors.


It won't be wrong to say that subscriptions are the trend and the fitness industry's future!

Creating An Online Streaming Channel Was Never This Easy

Those video content creators who want to know how to create a digital fitness channel, follow these simple steps and start monetizing your videos.


Find Your Niche

The first step is about finding the niche that interests you the most. It also means that a creator should choose a niche in which they have the most experience and expertise. It can be fitness, education, entertainment, and more.


Set Up The Streaming Platform

Next, you need to look for a streaming platform or, in this case, a fitness monetization platform. The A platform should always have basic features such as security measures, multi-bitrate streaming, support for your niche, an analytics dashboard, etc.


Create Video Content And Monetize

Once you know which platform to opt for, start creating your first video. Do not try to produce a perfect video when you are a beginner. Just find your shooting style, get some reviews from your friends and family, and see how much you can improve.


Also, do not spend all your money buying those heavy gadgets initially. Start with basic things such as a smartphone, laptop, and a mic to record your voice.


You can then start uploading these videos, market your channel and attract an audience. Choose the monetization option that suits you best and become a part of the fitness creator economy.


Conclusion

The future of the fitness industry will be a different place 5 years from now. The best piece of advice hence for content creators is to stay updated with these trends and stay digital.


Present yourself to the world digitally and keep improving with every passing day. That said, the digital approach is the best approach, and the world will not shift back to its traditional ways.


Desc: Let's get to know how technology has been a game changer in the fitness industry. Get introduced to the most advanced innovations and wearablesof the era