Beat the Heat With These Top 10 Summer Kurtis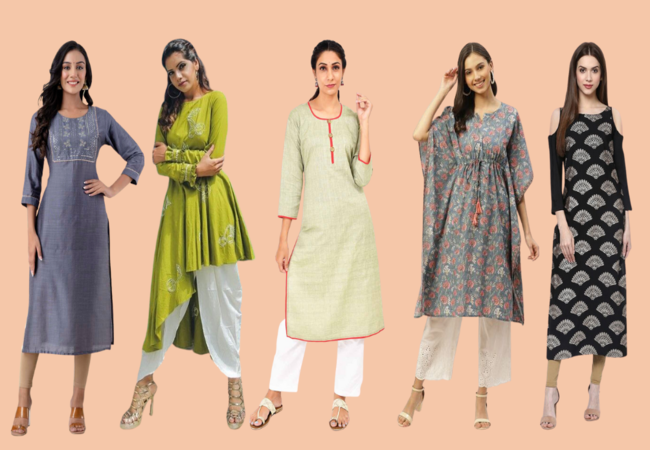 Keeping yourself cool and comfortable in summer is the main priority. but with it, we also need to look stylish. We always think that cotton kurtis are the only choice we have to avoid the sweltering heat in summer, but that's not true we have a variety of fabrics and kurtis to choose from, and not just that we can style them in different ways, and can wear them in many occasions. These kurtis can be worn casually and formally. Here we have listed the top 10 summer kurtis in which you will feel confident, fashionable, and non the less comfortable, And at the end you are all set to rock this summer.

Top 10 Summer Kurtis
1: Khadi kurti
khadi kurti can be one of the great choices for summer as they are mainly made of cotton and sometimes skills. The cotton fabric keeps you cool and is very comfortable to wear. And for bottom wear, we can add loosely fitted bottoms.
2: Shirt Style Kurti
Ya Shirt style I know. This Kurtis provides you with all the style you need and at the same time will keep you comfy and cool .you can pair this kurta with a palazzo which will give you an elegant and fashionable look it's an ideal attire you can choose for summer.
3: High-low
In this kurti we have the front that is shorter than the back, Furthermore, this kurti makes a  statement of style on its own, moreover this kurti is very stylish and breathable. Furthermore, this summer kurti can go with a variety of bottom wear. A light touch of jewelry will give you a great look.
4: Asymmetric Style Kurti Design
Finally, so you need to stand out, and look different from the crowd! don't this asymmetric kurti will help you stay unique and look amazing not only that this kurti is surprisingly comfortable. It is mainly made from light quality fabric like georgette or sometimes crepe that will keep you cool throughout the summer for a bottom wear choice you can go with cigarette pants, jeans, or palazzo something else if it suits you well.
5: Linen Kurtis
Linen kurtis are not much different from cotton kurtis as they are both light in terms of weight and keep the sweat at bay. Linen kurtis can be tailor-made or bought. Its a comfortable outfit to beat this summer heat. Furthermore, you wear this kurti on almost every occasion.
6: Cambray Kurti
Chambray kurtis are one of the most popular growing kurtis . Its fabric is not much different from cotton but the thing that makes it unique is that it has a higher count of threads .which results in its extended durability. These summer kurtis have a cozy feel to them and are amazingly breathable. It does give a denim look, you can pair it up with loose bottoms, or short earrings, and for footwear, you can go with jhutis or wedges.
7: Kaftan style
Kaftan is a trendy and unique kurti that gives a different and stylish sense of fashion its more like a free-feel kurti that looks extremely elegant. It's one of the favorite celebrity outfits. furthermore, kaftans are amazingly comfy and can be dressed on many occasions. It goes well with any kind of jeans, jeggings, etc. Some accessories and light jewelry also will suit well with this kurti.
8: Side Slit Kurti Design
Talking about the side slit kurti, most Indian women know about it and might have it in their wardrobe, and why not this kurti is not only shockingly beautiful but is also very pleasant and comfy to wear. Moreover, this kurti comes in various designs and patterns. Palazzo and leggings look gorgeous with that slit, you can also pair some jeans for a more casual look.
9: Cold Shoulder Kurti
This kurti in itself is one of the most highly appreciated and fashionable kurti having a shoulder cut not only gives a fashion statement of its own but also looks great. This kurti is an eye-catcher for sure having a stunning look to itself and a comfortable design you can pair it up with leggings, or cigarette pants as your liking. Sometimes jeggings also go well.
10: Cotton Kurtas
Now let's talk about the most admired and worn fabric cotton. These cotton kurta sets for women are the go-to destination for summer kurti. It's lightweight, durable, and feels amazing to wear not only that there is a variety of cotton kurti in different colors, prints, and even different styles.